 40 Days Of DragonCon (Day 1): Another Year Another Countdown – The Unique Geek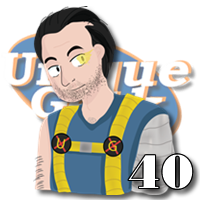 Hey Gang!
So, another year has passed and now it is time to start our ramp up to the geekfest called DragonCon! Much like last year we are going to do a countdown (or count up if you will) to the official start of the convention (Friday Aug. Sep. 4th 2009). [Thanks Rox for the catching the date snafu]
This year we are going to do something a little different. I have called upon the Unique Geek Legion (at least the ones that are attending) to help with the 40 Days countdown. So in addition to myself and Shag (Once Upon A Geek), you will be hearing from Ron, Michael, Rox, Serv, Salmon, and Scott C. among others.
In addition, I will be doing a special podcast series with guest host Leigh (Director of the X Track at DragonCon). In the podcast we will interview Fan Track directors to get the inside view of their tracks.
Lastly, we hope to get some insight into the burgeoning independent con' scene with updates on the progress of ToddCon '09.
So we have a full slate for you this year and we look forward to hearing from you.
Please leave your [constructive] comments and [helpful] suggestions in the comments section, via email (thegeeks [at] theuniquegeek dot com), or in our voice mail (Skype: theuniquegeek / Phone: 813-321-0884).