 40 Days of DragonCon (Day 14) – Useful Sites – The Unique Geek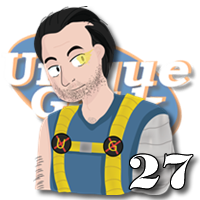 So you are going to Dragon Con, thinking of going to Dragon Con, or wondering what the frack is Dragon Con? Well, here are a few sites that might prove useful in gathering info on all things Dragon Con.
The Official DragonCon Site (dragoncon.org) – This is, well, the official site for DragonCon. You will find the 'Official' guest lists as well as important con information.
Unofficial/Official Live Journal (community.livejournal.com/dragoncon) – I am still unclear of the 'official' status of this site, but what I do know is that it has a ton of useful information and the track directors post there a lot. If you are looking for a room you should try here first.
The Yahoo! ListServ (groups.yahoo.com/group/DragonCon) – The very un-official listserv/email group for DragonCon. If you are looking to find hotel rooms go here 2nd (after the Live Journal site). If you are looking for parties, meetups, or just to gab go here first. I like to get the digest version of the postings from here – it is easy to browse and I don't have to go out to the site everyday to keep tabs on what is going on. Added bonus, it is a moderated list so spam rarely makes its way on the list.
Dragon-Pod (dragon-pod.com)- This is the official podcast of DragonCon. Last year they had several podcasts leading up to the Con with tons of information. This year there has only been one so far, but I suspect they will put out a couple in the next few weeks. It is hosted by Kevin, Derek, and Swoopy – all of whom I suspect are VERY busy right about now.
Fan Track Sites – Here is a list of some of the fan track sites. If you are interested in a particular area of fandom – try these. They usually post their schedules ahead of time as well (just remember that the schedules are living breathing things prone to irrational behavior – they can change at any minute)
Apocalypse Rising (apocalypserising.dragoncon.org) – Zombies and the end of the world!
Be sure to join our groups on Facebook and Myspace!
Brit-Track (brittrack.org) – British Programming (Dr. Who, Torchwood, etc.)
Whedonverse (www.whedonuniverse.com) – All things Joss
Animation (dragontoon.moonfruit.com) – Covering the world of animation from Looney Tunes to Adult Swim.
Alternate History Track (chronotrack.org) – Time travel, Steam Punk, and Alternate Universes. Oh my!
American Sci-Fi Classics (americanscificlassics.com) – BSG TOS, Old School Batman,  Raiders of the Ark, etc.
Podcasting (podcasting.dragoncon.net org) – All things podcasting. [Twitter]
Dark Fantasy (darkfantasytrack.blogspot.com) – Covering horror, the gothic, the macabre, the weird, etc.
Electronic Frontiers Forums (efforums.net) – Your digital life has rights – learn about them here.
Tolkien's Middle-Earth (tolkientrack.com) – One track to rule them all.
Filk Singing (dragonconfilk.com)- Who doesn't like a quick filk in the morning?… Filk. It does a body good! … Man! I Like to Filk! (I got a million of them) [Facebook Group] [Twitter]
Independent Film (filmfest.dragoncon.org) – The indiest of the indies
MMORPGs (dc-mmo.org) – Covering World of WarCraft and all of the "other" online games.
Skeptics (skeptrack.org) – Need proof? Your not alone.
TrekTrak (TrekTrak.com) – All things Star Trek (yes all versions)

Young Adult Literature (yalit.dragoncon.org) – Like the Potter books? How about Twilight? Then this is where you want to be. [LiveJournal]
American Sci-fi Media (scifitvtrack.com) – BSG (the new series), Chuck, Heroes, Smallville… You get the idea.[Twitter]