 40 Days of DragonCon (Day 18) – Rox's Survival Guide: Log Entry 004 – The Unique Geek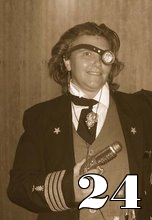 Dragon Con Survival Tips by Rox of Spazhouse
Log Entry 004: Getting Around the Con Hotels (or 'To Habit Trail or No')
The convention over the last couple of years has incorporated four hotels. The Hyatt on Peachtree Street, Marriott Marquis on Peachtree Center ave., Atlanta Hiton Towers on Courtland St.  and the Sheraton Atlanta on the corner of Courtland Ave and Andrew Young International Blvd. The question that most attendees have is what is the best and quickest way to get around. Answer: There isn't one.
The Habitrails allows you to wander into the Peachtree Center which houses a myriad of fast food places such as Dairy Queen and Chik-Fil-A [Ed. Note: CFA is closed on Sunday… just ask Serv].  Though nice to go through to people watch, it is a longer walk to get to the Marriott. Some people prefer to go through the Habit Trail tube to avoid the day ball as well.  The problem with this logic is that you still have to venture outside to get to the Hilton and Sheraton.
One can, instead, use a direct route of using the back stairs of the Hyatt where the covered pool and smoking area is, down the steep stairs to cross Peachtree Center Ave to the Marriott. Then you can take the escalator to the lower level and out the back door to Courtland Street and to the Hilton. A brisk walk can get you from the front of the Hyatt to the Hilton in about 10 minutes depending on the crowd.
I, however, have found a unique way of getting around; for the last couple of years I brought a small Dahon folding bike and was able to coast down Harris street to get to either the Marriott or Hilton. I bypassed the sidewalk crowd and was able to ride down the sidewalk to get to the Sheraton. The only draw back is biking back up the hill on Harris Street. After a number of days biking the hill I was okay. This option is not for everyone as I like to consider myself as a seasoned rider with experience of city riding. Most of the hotels did not care that I brought such a small bike on to the premises. Just be aware taking a bike on the escalator might get you a reprimand from security, use the elevators.
As for getting around the inside of the hotels Dragon Con prints out the maps of all the hotels in the small schedule book. As for the 'outside world', someone posted this very handy Google map link over on the DragonCon ListServ.
SIDE NOTE: Registration for Dragon Con will be at the Sheraton this year.
[Ed. Note: Rumor has it that it is possible to get from the Hyatt to the Hilton without ever stepping into the sun by using a new Habit Trail. We, however, have not seen it yet but are looking forward to trying.]