 40 Days of DragonCon (Day 24) – Rox's Survival Guide: Log Entry 005 – The Unique Geek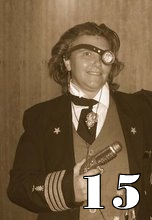 Dragon Con Survival Tips by Rox of Spazhouse
Log Entry 005: The Art Show
One should always venture to the art show to see what artistic people are creating. Every year a set of guys create a large scale scene diorama. Last year was reminiscent of Dead Wood. The year before was a castle under siege.  Pegboard panels form booths that some artist share with fellow artists. Others have a full bay to themselves.
You should set aside a fair amount of time to go through the show as there are as many varying types of artists (including some professional artist you may already know) as there are time streams in the DC Universe.
The Art Show is a juried show, meaning that people who participate must have had their work judged by a panel of professional artists. So please, keep that in mind when you see a neat image you might like. Most of the time artist in the show would have a print in the digital print shop area. Most artist will have business cards on hand in the event you wish to contact them or would like to see more of their work.
Buying at the Show
So you found something you would like to buy? There are a few ways of going about that.
Below most pieces there will be bidding sheets.  The artist will first list a direct sell price. This is the price you pay if you want to walk out with the piece on demand. Under that line there are lines for bidding where you can place a bid. Once someone has started to bid, the direct sale price is no longer available.
If you see 'NFS' in the direct sale price, then the piece is Not For Sale.
If you decide to place a bid keep in mind that, if you place the winning bid, you not be able to pick up your piece until Monday afternoon.
If you do not want to wait until Monday many of the artist will have prints available in the Print Shop of the show. Here you can purchase your items immediately and take them with you.  There is no bidding in the Print Shop.
NOTE: No photography is allowed, this even means cell phone cameras. Please do not take an image from someone who has spent time and effort to create a piece of artwork. Also, for security reasons you may be asked to leave your bag at the show entrance.