 40 Days of DragonCon (Day 36) – Rox's Survival Guide: Log Entry 006 – The Unique Geek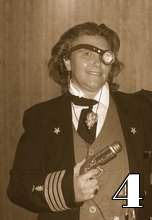 Dragon Con Survival Tips by Rox of Spazhouse
Survival Tip 006: Getting Around
MARTA (itsmarta.com)
Marta gets you to the places you need to go. I like MARTA. MARTA welcomes cyclists on the train and buses have BOB or Bike on Board racks on the outside of the buses. If you are flying in from the Airport, it is easy to find the MARTA station. It is up a set of escalators on the outside of the terminal.
You can take either North Springs train or Dunwoody train. Both cruise into Peachtree Station. Once you you head into the Five Points Station, Peachtree is your next stop.
Train Frequency
Weekday Peak Service (6:00AM – 9:30AM / 3:00PM – 7:30PM): Every 10 minutes
Weekday Off-Peak Service: Every 15 minutes
Saturday All Day: Every 20 minutes
Sunday All Day ( and Holidays [Monday]): Every 20 minutes
From Five Points Station the trip to the airport is about 16 minutes.
A single fare is $1.75
Visitor multi-Day pass runs (1-4 Days) $8.00 – $12.00
This is an unlimited ride pass and can be purchased at the Airport Station.
On returning to the Airport the MARTA station deposits you right into a Delta terminal. You can check in easily there.
NOTE: For those attendees who are in hotels in out lying areas the last trains heading to the North East Station is at 1 a.m. from the Airport. Last train from Peachtree is 1:19. You may need to make arrangements if you plan on staying at some of the very late programming.
Buses
At many of the stations you can catch different buses to different parts of the city, such as at the North Avenue Station you can catch the Route 2 Ponce DeLeon bus to venture to Little Five Points, the cool, hip place with the shops and restaurants. If you do this you need to get off at Moreland Ave. and either walk down to Little Five Points a few minute walk or catch the Route 6 – Emory
Many of the schedules you can find online and can download handy pdfs.
Buses seem to run every 45 minutes on Saturday.