 40 Days of DragonCon (Day 37) – Rox's Survival Guide: Log Entry 007 – The Unique Geek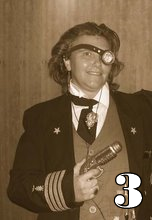 Dragon Con Survival Tips by Rox of Spazhouse
Log Entry 007: Restaurants
There are plenty of places to sit down for a good meal around the Peachtree Center area.  I have compiled a short list of popular restaurants in the area. This is not all inclusive and, for some, you may have to venture a bit of a ways.
Note: If you have experiences with any of these restaurants (or have a favorite spot that isn't listed) and wish to share, please leave a comment.
Helpful Tip: For iPhone and iTouch users download the Urban Spoon or Eat A Rama Applications. The Wifi will get your location and help you find restaurants around you.

Benihana
229 Peachtree St. N.E. • 404-522-9629 • Moderate
Avanzare
265 Peachtree Street NE
Lower level of the Hyatt.  The lamb is excellent
Trader Vic's
255 Courtland St. N.E. • 404-221-6339 • Expensive (Make reservations)
(Lower level of the Hilton Hotel. Need to take the Special Elevator to reach the restaurant)
Sun Dial Restaurant
210 Peachtree St. N.W. •  404-589-7506 • Expensive
Sear
265 Peachtree Center Avenue • 404-586-6134 • Expensive
(Upper Level of the Marriott Marquis)
Max Lager's American Grill & Brewery
320 Peachtree Street • 404-525-4400
Nikolai's Roof
255 Courtland St. N.E. • 404-221-6362 • Expensive
(In the Hilton Hotel and Towers)
Moe's Southwest Grill
70 Peachtree St. NE • Inexpensive
Pittypat's Porch
25 International Blvd.
Ted's Montana Grill
133 Luckie St. NW
Atlanta Grill
181 Peachtree St • 404 659-0400
Morton's of Chicago
303 Peachtree Center Ave  • 404 577-4366 • Expensive
(Call the restaurant to make reservations)
Gladys Knight & Ron Winans Chicken & Waffles
529 Peachtree St. NE (Closer to Midtown) • 404.874.9393 • Moderate
Dania's
26 Peachtree Road • 404-588-0069 • Inexpensive
(Across from Woodruff Park)
Django
495 Peachtree Street • 404-347-8648 • Moderate
Ginger Bay Cafe
182 Courtland Street • 404-521-0061 • Moderate
(Caribbean Food – Near the Sheraton)
Olympia Prime
133 Peachtree St. N.E. (Located near the Georgia-Pacific Center) • 404-593-2588 • Expensive
Paschal's Restaurant
180-B Northside Drive • 404-525-2023 • Moderate
Haveli Indian Cuisine
225 Spring St NW • 522-4545 • Mainly Buffet • Moderate
Atlanta Downtown Hooters
209 Peachtree St NE • (404) 522-9464 • (404) 688-5369
(You know what you get here)