 50 Days Of DragonCon 2011 (Day 9) – Serv's Guest Picks – The Unique Geek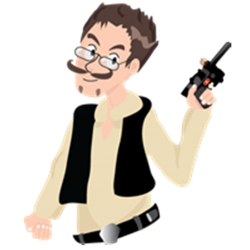 Hello again gentle readers, As we draw closer to "Geek Christmas in September" also known as Dragon*Con,  I wanted to tell you about a few of this years guests that I'm already looking forward to.
Let's start with none other than Space 1999's Martin Landau!
Yeah, as a kid I had the Eagle play set. Yeah, it was geek-tastic! Oh, did I mention he won an Oscar for his portrayal of Bela Lugosi in the movie Ed Wood? Well I did now. And the last little bit of appreciation for Mr Landau was for his portrayal of Bob Ryan on the HBO show, Entourage.  Is that something you'd be interested in? (This one was for you Raven!!!)
How about Carrie Fisher?
I know what your saying…'Jake Blues girlfriend from The Blues Brothers???' Um, YEAH!
Ok, so you probably forgot she was even in Blues Brothers and as we all know, she portrayed Princess Leia Organa… but, we really need to thank her for launching 1000 gold bikinis at Dragon*Con.
Author Michael Stackpole is coming again this year.
Michael Stackpole wrote my favorite Star Wars novel, "I, Jedi".  The fact that he wrote a novel about that galaxy far far away and to used Wedge Antillies as the most recognizable character from the films…and still made them great stories…well, that just shows what a fantastic author he is!
In 2010, a guest was listed as attending but had to bow out. I was really bummed that Howard Hesseman was not going to be at Dragon*Con 2010.
As disappointed as I was that Dr. Johnny Fever would not be in attendance last year, is how excited I am that HE WILL BE HERE THIS YEAR!!! I mean come on…he hated Disco…like the rest of us, and don't forget to beware the Phone Cops!!!
Finally, I am really happy to have James Palmer in attendance in 2011.
James is a freelance writer, author, and journalist. He has written for Strange Horizons, RevolutionSF, Blood, Blade and Thruster: The Magazine of Speculative Fiction and Satire, and Fantasy & Fear.
Got a guest you are looking forward to?  Leave a comment or drop us an email (50Days[at]theuniquegeek.com)