 50 Days Of DragonCon 2011 (Day 13) – 5 Things Not To Miss – The Unique Geek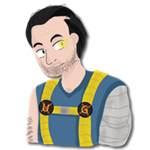 There are A TON of things to do at DragonCon to say the least. In this post I highlight 5 events that I find interesting and should not be missed.
Disclaimer: 2 of the 5 I have been involved with one way or another this year and/or in years past. ALSO: ALL TIMES ARE TENTATIVE
The DragonCon Parade (Saturday 10am)
This is the 10th anniversary of the parade.  It grows every year in the size of participants as well as spectators. I always try to make it for at least the first half.
If you go to watch, go early prime spots are disappearing earlier and earlier. Be warned once the parade ends, trying to get back into the hotels can be daunting.
If you want to participate: be sure to check out the official DragonCon website – there are some things you need to know, most notably: You need to register before August 20th – You can do so by emailing the parade coordinators at dc_parade[at]dragoncon.org
Comic Book Babes Costume Contest (Hyatt Centennial Ballroom – 8:30 pm Saturday)
A 'new' event this year (replacing the Dawn Look-A-Like Contest). This is a juried costume/beauty contest featuring a $1000 first place prize. I have only seen the Dawn LAL contest via DragonCon TV since I have no interest in the Dawn character. Comic book babes on the other hand…
If you plan on participating be aware that it is a juried event, so you must sign up in advance as well as pass the initial judging to be in the contest. Be sure to check back at the DragonCon website for more info.
Wrestling (Friday Night 7pm)
It is a good  'ol time – 'nuff said, unless you want a cheese grater across your skull.
The Need Coffee Dot Com Fun Fest (Friday Night 8pm)
The insane folks over at Need Coffee (yours truly included) put on a, well, ummm… I don't know, a fest of fun I guess.
Let's put it this way: there are prizes, games, silliness, prizes, exploding Twilight pinatas, prizes, and Orc Girls playing The Price is Right. Basically it is a fun time for all and a great way to end your Friday (or start it)
The Panel Show (TBD)
Ken Plume of A Site Called Fred and Widgett Walls of the previously mentioned Need Coffee Dot Com host a panel of  celebrities in a series of panel show games and challenges. It is a hilarious time for all involved and defiantly not to be missed.
What events are can't miss for you? Drop us a line at 50Days@theuniquegeek.com OR leave a comment.