 50 Days Of DragonCon (Day 18) – Updates And Reminders – The Unique Geek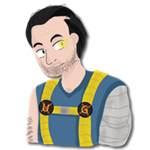 As Serv informed you a few weeks ago, the deadline for transferring  your badge is quickly approaching (3 days from now).  Partly due to the new badge system you will no longer be allowed to transfer your badge after the 3rd of August. Be sure to check out the DragonCon Membership Page for more details on this policy as well as other changes.
Also, if you still don't have a room for D*C don't panic, you are not the only one. Be sure to keep calling the primary hotels (info at DragonCon's Location Page) since people will begin cancelling their reservations at this stage of the game.
If you have no luck calling the hotels you can also try Rooms For DragonCon Live Journal.
The progress report is now available here.
Don't forget: DON"T throw out your registration card you will need it for the new registration process. If you lost your card contact the D*C office for a replacement (770-909-0115)
Be sure to check out the DragonCon Yahoo! Group for all sorts of unofficial information of parties and meet-ups (as well as other fun stuff)
Got any tips? Be sure to drop us a line at 50Days@theuniquegeek.com OR leave a comment.