 50 Days Of DragonCon 2011 (Day 31) – Found Video – The Unique Geek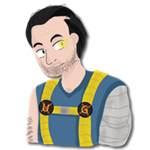 There are A LOT of videos out there from DragonCon. Here are a couple that I found that encapsulate just a little of the fun that is D*C.
First up, Chad Vader introduces 75 characters he met at DragonCon.

Next, a video from Beat Down Boogie's Snake and Ghost at DragonCon 2010.

As most of you know, Mr. Nimoy has had to cancel his appearance at DragonCon 2011. So lastly, we have this bittersweet video from 2009 in which the lovely Leigh interviews Leonard.