 50 Days Of DragonCon 2011 (Day 38) – Serv's Quest! – The Unique Geek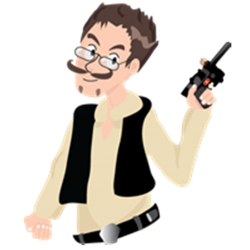 Hello again gentle readers!
In today's installment of 50 days of Dragon*Con I want to let you in on one of my favorite parts of Dragon*Con.
The Quest!
Like the tales of  Knights and heroes (and heroines) of legend, I have great object (or objects) of desire I seek to acquire at Dragon*Con every year.
For those of you that have been to D*C, surely you are aware of the vast number of both Exhibitors and Dealers. Exhibitors are generally the folks who work at a manufacturing company of whose merchandise is in demand by us geeks. Dealers, on the other hand, tend to be those who retail the items that exhibitors produce, like your local comic shop for example.
I find that I spend significant amounts of time in both the Dealers area (The Pit) and the Exhibitors hall(s) just looking around during the Con. If this is your first trip to Dragon*Con, be prepared to spend some time just marveling at all the fantastic geek gear that is available at one place.
Keep in mind that questing for an item may require strategy.
We ThUGs have discovered that dealers and some exhibitors will be more willing to "wheel and deal" the later the con goes on. When You think about it, this makes sense. If they can sell an item for 20% less, get the cash, and have less to pack and ship – why not.
Also, don't be afraid to work as a team. Go in and offer the dealer the listed price less 40% and try and negotiate from there. If you are having no success, send in your partner later and try and work them down. Shag and I have actually employed this strategy and it has worked!
But, if you REALLY want that replica of Deckard's pistol from Blade Runner, you may have to just bite the bullet and get it…it would be tragic if someone else bought your quest object!
As I mentioned that I like to quest while at Dragon*Con, so here are some of my most memorable Dragon*Con quest items. A bootleg set of DVD's of the ABC television show, "Tales of the Gold Monkey" and the (unofficial) "Shaun of the Dead" t-shirt for The Winchester Tavern.  But by far, my most prized acquisition from Dragon*Con questing was my January 1995 issue of Playboy, featuring Drew Barrymore, my Hollywood Girlfriend. (Queue Charlie Sheen comment here…) WINNING!
So for 2011 I will be questing for a few things:
Great T-shirts – I generally pack only 1-2 shirts for all of D*C so that I can buy a couple t-shirts at the con and wear them there.
Paint-able D&D miniatures – A female halfling rouge and a female half-elf sorceress.
Comic Books – Specifically, moderately expensive comic books from the silver or bronze age.
So, do you have a quest object for this years Dragon*Con? Let us know!
Leave a comment or drop us an email (50Days[at]theuniquegeek.com)