 50 Days Of DragonCon 2012 (Day 45) – Joe: Hospitality Suite – The Unique Geek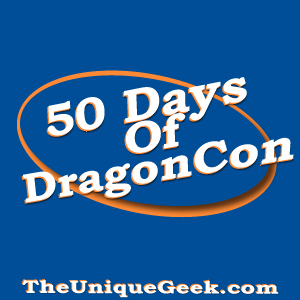 45 days in and Leigh and Jon are getting a bit peckish.
To quell their appetites, they invite Joe, Director of Hospitality Suite (a.k.a. Consuite), to the podcast to whip up some good old fashion conversation pie.
They discuss Spam, doughnuts, Klingons, Spam, Pepsi, rice, and Spam.  Also, Joe thought it would be fun to torture Jon and the listeners with an incredibly long reading of the Consuite food warning (this is what 4 days of working with Red Dye #647 does to a guy).
You can get more info on the DragonCon Consuite here: Consuite Website
Have a question for the directors or maybe something you want us to try and get info on? Then leave a comment, email us, or call the comment line/Skype.
Email: 50days[ at ]theuniquegeek.com
Voice mail: 813-321-0TUG (813-321-0884)
Skype: theuniquegeek
Facebook: facebook.com/TheUniqueGeek
Join our discussion group at: listserv.theuniquegeek.com
Podcast: Play in new window | Download
Subscribe: Apple Podcasts | Google Podcasts | RSS
Subscribe via iTunes OR via Some Sort Of Other Feed Thingie
The cast members in this issue can also be found here:
Jon – Twitter
Leigh – Twitter – Need Coffee