 50 Days Of DragonCon 2013 (Day 3) – 2012 Parade – The Unique Geek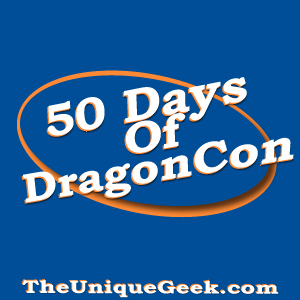 For the last 10+ years, a mile or so of Atlanta downtown road is closed for a few hours to let the D*C party out of the hotels and into the streets.
Personally, I see this as the official kick off of the 'main course' that is the DragonCon buffet.
The Saturday morning parade has become an Atlanta tradition for not only attendees, but locals as well. Every year is bigger and better than the last – that goes for the crowds as well, so get there early!
You may ask yourself: How can I be a part of the mayhem?
The answer to that (and most parade participant questions) can be found at the official parade registration page. On the recently redesigned Dragon*Con site, you will find the link under the "Participate" button/fly-over.
You can also listen to our 2012 interview with Parade Director Jan if you want more details into what it takes to herd so many cats.
One thing to keep in mind though… register now! The parade fills up quickly.
If you are part of a specific track (such as Star Wars or British Media) do a quick check with the track director to see if they have an official group participating.
Finally, last year Bleeding Cool had some very nice coverage from the convention including a full length parade video with commentary. Check it out below.
Be sure to check out our Facebook, Twitter, Listserv, and Google+ social media thingies.
Have a question for the directors or maybe something you want us to try and get info on? Then leave a comment, email us, or call the comment line/Skype.
Email: 50days[ at ]theuniquegeek.com
Voice mail: 813-321-0TUG (813-321-0884)
Skype: theuniquegeek
Facebook: facebook.com/TheUniqueGeek
Discussion Group: listserv.theuniquegeek.com
Subscribe to our podcast  via iTunes OR via Some Sort Of Other Feed Thingie