 50 Days Of DragonCon 2013 (Day 9) – Facebook Friday – The Unique Geek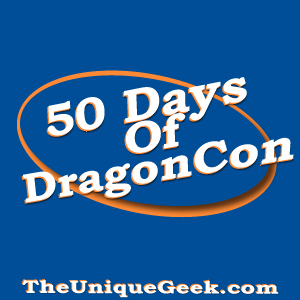 So social media is apparently a thing. I mean, at least that is what my kids keep telling me… via Twitter.
Personally, I think one of the biggest reasons DragonCon has grown so much is due to the advent of the internet and more recently "social media". I know I am really going out on a limb here – next I will take the controversial stand that Halle Berry's Catwoman was awful.
My point is this… here are some links to Facebook Pages/Groups that you might be interested in.
According to my kids – I should also encourage you to like our Facebook and subscribe to the Listserv… or whatever.

DragonCon Tech Ops: Where your favorite band of pirates hang out. These are the folks that make things look and sound good at the Con.
The DragonCon Concourse Stage: You know that awesome music you here as you walk though the Hyatt… yeah it is coming from these folks. Listen to our upcoming interview with Ragina to learn the one mistake she made with the Concourse Stage.
Podcasting: New director Brian Dunaway takes over the track this year… check in and say hi – but assume you are being recorded. 
Kaleidoscope: One of my favorite new(er) tracks. This is a track geared toward the younger set (and the young at heart) that covers everything from Adventure Time to Zack and Cody.
DragonCon Fan Photos: A group for sharing your best DragonCon photos. Be sure to click the "Highlights" button and then select "Posts By Others".
Space Track: It is kind of like Star Trek, but real and with less lens flare.  
DragonCon Fan Run Page: The DragonCon page that moved out of Portland 4 years ago because "that place is too mainstream". It is the official unofficial page for general DragonCon nonsense.  Warning: don't feed the trolls… no really there are trolls there – they live under the posts. I have seen the photos 
DragonCon Facebook: The official official DragonCon page on Facebook. There are less trolls, but more dragons (and Batmen).
I'll post more as we continue the march to DC (or you can just search for DragonCon on the Facebooks – why do I have to do all the work?)
Have a question for the directors or maybe something you want us to try and get info on? Then leave a comment, email us, or call the comment line/Skype.
Email: 50days[ at ]theuniquegeek.com
Voice mail: 813-321-0TUG (813-321-0884)
Skype: theuniquegeek
Subscribe via iTunesORvia Some Sort Of Other Feed Thingie