 50 Days Of Dragon Con (Day 5) – Monday At The Movies – The Unique Geek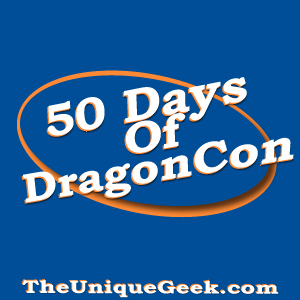 No podcast today. We are dedicating Mondays to the movies. Well,  internet videos, but Monday at the videos doesn't have the same ring.
For this edition, we feature a couple of music videos from last year's Con.
The first one was created by SpendthriftMonk on the YouTubes. This music vid is all cosplay and has Deadpool and Iron Man doing the Macarena – which is what every video should have in it.
The second featured video is from the Distractortron channel and is called JLA vs Avengers: A Tribute to George Perez and is exactly what it says it is.
Just think… in just over 6 weeks – you will get to see all of this in person!
Enjoy.
We want to hear from you! There is a new comment line just for 50DODC – (678) 960-8884 – Call and let us know what you think, your tips and tricks, or with your questions.
Be sure to check out our Facebook, Twitter, Listserv, and Google+ social media thingies.
Have a question for the directors or maybe something you want us to try and get info on? Then leave a comment, email us, or call the comment line/Skype.
Email: 50days[ at ]theuniquegeek.com
Voice mail: (678) 960-8884
Skype: theuniquegeek
Facebook: facebook.com/TheUniqueGeek
Discussion Group: listserv.theuniquegeek.com