 50 Days Of Dragon Con (Day 9) – Foto Friday – The Unique Geek
If you have listened to the podcasts you will know that I can never remember when my first Dragon Con was.
So, I was rooting around the site trying to clean up a few things, when I saw the old photo galleries.
The oldest documented visit to Dragon Con that I have is 2003. I contend I attended Dragon Con at least one time before that, but did not have a camera to document the experience (I hit my head on a pizza oven in 1997 – so things are always a bit foggy). In fact, the camera these photos were taken on I only owned because I got it for my 5 year work anniversary.
Anyway I thought I would share a couple if only to show how DC has grown.
---
This picture was taken DURING the parade. Note the available seating.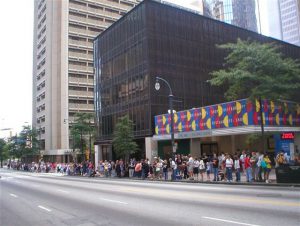 ---
Here's Friday night at Dragon Con… it is 5pm, but STILL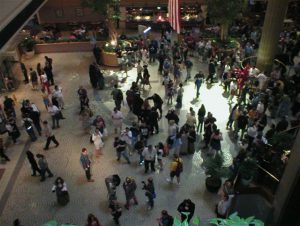 ---
And this one is only because I like it (SIMON COME TO CON!!!!)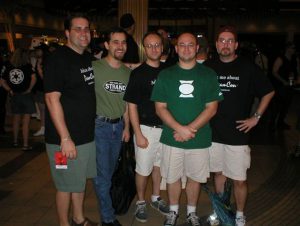 There is a new comment line just for 50DODC – (678) 960-8884
Be sure to check out our Facebook, Twitter, Listserv, and Google+ social media thingies.
Have a question for the directors or maybe something you want us to try and get info on? Then leave a comment, email us, or call the comment line/Skype.
Email: 50days[ at ]theuniquegeek.com
Voice mail: (678) 960-8884

Skype: theuniquegeek
Facebook: facebook.com/TheUniqueGeek
Discussion Group: listserv.theuniquegeek.com
Subscribe via iTunes OR via Some Sort Of Other Feed Thingie
The cast members in this issue can also be found here:
Kevin/Grim – Dragon Con Video Gaming – Twitter
Jon – Twitter
Kim – Twitter – Need Coffee