 50 Days Of Dragon Con 2015 – (Day 11) – Leigh's 1-2-4 Rule (Part 3) – The Unique Geek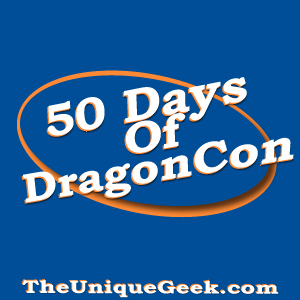 These are the Dragon Con Rules – live them, know them, follow them…or else !
Then there are Leigh's Rules.
Their's are very important and are official. Mine will keep you alive during Con…and might get you laid.  Just sayin'.
FOUR (4) hours of sleep.  PER NIGHT!
Yes, you read that right.
It's not four hours of sleep over the Con.  It's four hours of sleep PER NIGHT![1]
This is the one that will be the hardest to follow.  I know it.
As said before, there's SO MUCH TO DO!!!!  Dragon Con, wonderfully, is 24/4[2] so there is always something to do.
Panel at 10am?  Check.
Marathon TV Show viewing at 4pm?  Check.
Gaming session to learn Game You Kept Meaning to Learn at 9pm?  Check!
Dance Party at Midnight?  Check.
Drum Circle at 2am?  Check.
Another Dance Party at 4am?  CHECK!
And so forth.  And so on.
But your body cannot go 24/4.  It can't.  I know you will try.  But really, you need rest.  Good ol' shut eye. So, four hours of sleep within every 24 hour cycle.  Do it.  You need it.  It makes Con more fun.
I know this is the hardest rule.  I do.  But it's one that really does help you.  You'll be more energized and remember the rules of that new game you learned.  You'll be at your rave-iest best during that dance party.  You'll remember the question you wanted to ask during the panel – AND you'll actually ask it!  Coherently!
Yes, yes, let's start the whinging, shall we?
Who needs sleep!? I've got caffeine.  The wonder drug.

Yes, caffeine is pretty darned nifty. I like it too.  But it doesn't take the place of sleep.[3]  Did you know that caffeine increases your heart rate?  No, not in a good way.  It makes your heart work harder, which can lead to serious medical issues.  And, caffeine decreases your hydration.  It actually dehydrates you.  So, caffeine, while awesome, does not negate or eliminate the need for sleep.

Did you say something about getting laid?

I did! Remember that part where I talked about hygiene and eating?  Yeah, this goes along with both of those.  When you sleep you have energy.  When you have energy, you feel all ready to go.  So that pushes you to shower and eat right.  And then, if you get to meet a special friend (who thinks you smell pretty spiffy) and get up to shenanigans[4]…you not only have the ENERGY for it because you ate – you also slept, which means you won't fall asleep during those shenanigans[5]!

As a side note, though, No means no and I'm trusting everyone to not be "that guy or that gal" in hopes of getting laid. Yes, I said this three times.  That means you have to follow it.

Lady, you have lost your damned mind. I'm going non-stop, 24/4.  Yeah, okay, I'll eat.  And I'll shower.  I'll take the time for those things.  But you can't make me sleep.  You can't.

Nope, I can't. I know this.  But I do want you to know that 4 hours of sleep each 24 hour cycle will make this a BETTER Con.  You'll have even more fun, if you miss out on just a few things.    I promise.
So, those are Leigh's Rules.  Follow them.  Enjoy them.  And enjoy Con.   Which you will.  Because it's gonna be AWESOME!
[1] Again, your version of day/night might be different.  You might mean "night" to mean from 6am-10am.  I'm fine with that as long as you are sleeping!
[2] Dragon Con is only 4 days.  Therefore it's 24/4.  If I put 24/7 some of you would be asking, "Is Dragon Con gonna expand to 7 days!?! SWEET!"  No.  It's four days.
[3] That yelling you heard?  Our friend, Widget from NeedCoffee, was calling me a liar and many other names while cradling his coffee and crooning to it.  Tell it things like, "Kona, baby…she just doesn't understand the special bond between you, me and the Keurig."
[4] Shenanigans can be an euphemism.  For many things.  Including gaming, raving, drum circling or many many other things.
[5] This is one of my new favorite words.  I love it.  Say it out loud – She-nan-i-gans.  It's kinda awesome.  And if you say it to me at Con, I'll have some kind of special sticker for you.
-Leigh
---
Call our 50DODC comment line  – (678) 960-8884
Be sure to check out our Facebook, Twitter, Listserv, and Google+ social media thingies.
Have a question for the directors or maybe something you want us to try and get info on? Then leave a comment, email us, or call the comment line/Skype.
Email: 50days[ at ]theuniquegeek.com
Voice mail: (678) 960-8884
Skype: theuniquegeek
Facebook: facebook.com/TheUniqueGeek
Discussion Group: listserv.theuniquegeek.com
Subscribe via iTunes OR via Some Sort Of Other Feed Thingie