 50 Days Of Dragon Con 2015 (Day 17) – Serv's Food Guide (2015 Revision ) – The Unique Geek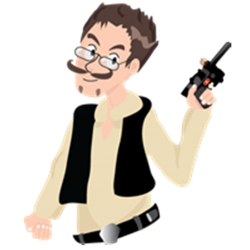 (Originally posted 2011 – slightly revised for 2015)
Hello gentle readers!
So it's Saturday at Dragon Con. It's like 4:45 PM, you just got out of a panel or maybe you just left "The Pit" where the dealers wheel and deal. Your stomach reminds you that you haven't eaten since you got up at the crack of 10 AM. Below you will find some links to a few dining establishments that we ThUGs have found to be tried and true friends of the geeks.
First and foremost (and much to the chagrin of Dr Jen…) I have to list the food court at the Peachtree Center [MAP].  This stalwart dining spot offers The Unique Geek favorites such as:
Chick-Fil-A (but don't forget, like an evil pious wretch, they are closed on Sunday)

No longer on Serv's list for various reasons

Moe's (yes, I have a slight burrito addiction…thank you Moe's!)
Cafe Momo (Buffet by the pound)
Firehouse Subs
GW Cheesesteak
Roman Delight Pizza
Dairy Queen
Caribou Coffee (Starbucks like coffee spot, but their roasts generally taste less…burned)
There are many other dining spots that the ThUGs haven't tried while at the Peachtree Center for DC
What's that? You want to go to a restaurant that has their own tables and chairs? We ThUGs have tried all these dining spots and survived:
The Corner Bakery – conveniently located just across Peachtree St from the Hyatt's front door! Can be relatively healthy to boot!
Martha's Mexican Restaurant (formally Mama Ninfa's)-  located in one of the lower levels of the Peachtree Center, this has been a ThUG staple for years! HOWEVER, the quality has been slipping in recent years. Also, they serve a limited menu during Dragon Con.
Gibney's Pub – also in the Peachtree Center, nice spot for some Fish & Chips and a pint!
Max Lager's Wood-Fired Grill & Brewery – we've had good meals here, and we've had just ok meals here. Service can be crazy with all the con folks, so just know that going in!
Hooters – Well DC weekend is also the kick off of college football season…wings, beer, football…all a nice change of pace from the chaos that is DC!
Trader Vic's – OK, to be totally honest, the only calories I have taken in from Trader Vic's have been liquid…but they serve food too! Conveniently located in the Hilton! THIS is the place to find us on Thursday night before Con
Ok, so that's a few of the ThUG food haunts…but we're always looking for new joints to try. Let us know where you find grub at the con (unless you just eat granola bars all weekend long…) so we can try them out!
Got a favorite food haunt at DC?  Leave a comment or drop us an email (50Days[at]theuniquegeek.com)