50 Days Of Dragon Con (Day 22) Sue And The Laser Printer – The Unique Geek
Where Science Fiction Reading Is Fundamental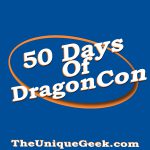 Sci-Fi literature is the topic of the day when Sue teleports into the 50 Days virtual studio.
Also, Leigh and Jon prove that they would make the worse starship navigators.
Sci-Fi Literature can be found on the Futuristic Web and Facebook
We really want to hear from you!
So call our 50DODC comment line  – (813) 321-0884
Also, be sure to check out our Facebook, Twitter, and Google+ social media thingies.
Email: 50days[ at ]theuniquegeek.com
Voice mail: (813) 321-0884
Skype: theuniquegeek
Facebook: facebook.com/TheUniqueGeek
Podcast: Play in new window | Download
Subscribe: Apple Podcasts | Google Podcasts | RSS
Subscribe via iTunes OR via Some Sort Of Other Feed Thingie
The Transcript (such as it is): Transcript