50 Days Of Dragon Con (Day 35) – TUG Update With Leigh And Jon – The Unique Geek
Where We Say Stuff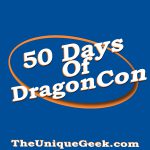 Leigh and Jon clear out the voice and e-mail bins. We also discover an archived recording of the first 50 (well 40) Days of Dragon Con we did together.
Fair warning: At the end of the podcast we express our thoughts on some recent events. As always – We do not speak for Dragon Con or those associated with Dragon Con. Our views are our own.
Find the fan generated vendor guide map here: Floor 1, Floor 2, Floor 3
We really want to hear from you!
So call our 50DODC comment line  – (813) 321-0884
Also, be sure to check out our Facebook, Twitter, and Google+ social media thingies.
Email: 50days[ at ]theuniquegeek.com
Voice mail: (813) 321-0884
Skype: theuniquegeek
Facebook: facebook.com/TheUniqueGeek
Podcast: Play in new window | Download
Subscribe: Apple Podcasts | Google Podcasts | RSS
Subscribe via iTunes OR via Some Sort Of Other Feed Thingie
The Transcript (such as it is): Transcript