50 Days Of Dragon Con (Day 36) – Deb's Ghost Stories – The Unique Geek
We Believe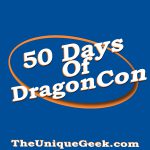 Deb from the Paranormal Track joins us today and we introduce a new fun drinking game: Take a drink every time Sasquatch is mentioned.
NOTE: Registration is in the Sheraton 
Find the fan generated vendor guide map here: Floor 1, Floor 2, Floor 3
We really want to hear from you!
So call our 50DODC comment line  – (813) 321-0884
Also, be sure to check out our Facebook, Twitter, and Google+ social media thingies.
Email: 50days[ at ]theuniquegeek.com
Voice mail: (813) 321-0884
Skype: theuniquegeek
Facebook: facebook.com/TheUniqueGeek
Podcast: Play in new window | Download
Subscribe: Apple Podcasts | Google Podcasts | RSS
Subscribe via iTunes OR via Some Sort Of Other Feed Thingie
The Transcript (such as it is): Transcript