50 Days Of Dragon Con (Day 48) – Carol Vs. Teenage Vampire Werewolves – The Unique Geek
Where urban meets fantasy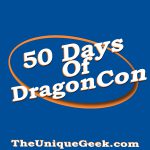 Carol joins us to talk about the Urban Fantasy track. Also, Leigh shows up late and rehashes everything we already went over (not really… but, really… but, no).
More info on the Urban Fantasy track can be found on the web, Twitter, and Facebook.
NOTE: Registration is in the Sheraton – Still hasn't moved 🙂 
Find the fan generated vendor guide map here: Floor 1, Floor 2, Floor 3
We really want to hear from you!
So call our 50DODC comment line  – (813) 321-0884
Also, be sure to check out our Facebook, Twitter, and Google+ social media thingies.
Email: 50days[ at ]theuniquegeek.com
Voice mail: (813) 321-0884
Skype: theuniquegeek
Facebook: facebook.com/TheUniqueGeek
Podcast: Play in new window | Download
Subscribe: Apple Podcasts | Google Podcasts | RSS
Subscribe via iTunes OR via Some Sort Of Other Feed Thingie
The Transcript (such as it is): Transcript