Adding Google Accounts To Your Mac – The Unique Geek
On my Mac, the Messages app is only showing phone numbers, not contact names
I'm going to setup my Google account on my new Mac. I think that in years past people would have to use 3rd party applications to keep these in sync, but now I think that Google and macOS work together much better.
(Note: I had been exclusively a Linux desktop and Android phone user for years, switched to iPhone a short time ago, and just picked up my new Mac.)
On the Mac
Hit Command-Spacebar to open Spotlight

Started typing "Contacts", and as soon as it auto-filled I hit enter to open it

Selected the radio-button for Google, clicked Continue

Entered my Google account email address, clicked Next

Entered the password, clicked Next
The next screen is "Google – select the apps you want to use with this account:"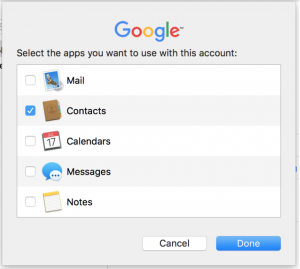 I'm leaving only Contacts selected. My thought was that my contacts on the Mac should provide all the information to the Messages app anyway. So I only left Contacts selected.
Clicked Done.
Results – Contacts
And now my Contacts list includes Google. When I click on the "All Google" entry underneath it I see them all. It was a very quick and easy process.
Results – Messages
And now, checking my Messages app on my Mac, all the names are filled in, it's no longer just showing phone numbers. Great!