Days Of Dragon Con 2020 (Day Sixpence) – Two Tunes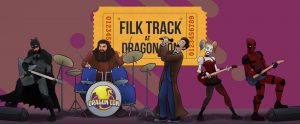 It's a 2020 Electric Boogaloo when Jon and Leigh are joined by two of this year's virtual Filk Track guests: Metricula and Marc.
Marc is the Celtfather and one of the Brobdingnagian Bards. Metricula can be found performing on Twitch and as part of The Salacious Crumbles.
We cover their musical histories, Dragon Con memories, and what type of potato chips they are.
The tunes featured on this episode are: "Meownir" by Metricula and "Jedi Mickey" by Brobdingnagian Bards from I Will Not Sing Along 
Metricula will be performing on Filk Track's live concert series Friday August 7th at 8pm ET!
Find more Merticula here:
More Marc goodness can be found by going here:
Get more info on the Filk Track here:
We really want to hear from you!
Call our DODC comment line  – (813) 321-0884
Also, be sure to check out our Facebook and Twitter social media thingies.
Email: 50days[ at ]theuniquegeek.com
Voice mail: (813) 321-0884
Skype: theuniquegeek
Facebook: facebook.com/TheUniqueGeek
Podcast: Play in new window | Download
Subscribe: Apple Podcasts | Google Podcasts | RSS
Subscribe via iTunes OR via Some Sort Of Other Feed Thingie
The Transcript (such as it is): Transcript